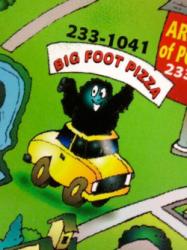 Pizza Delivery Driver
2022-09-13 Big Foot Pizza Pocatello 8.00 hour
Description:
We are looking for delivery drivers to deliver the
best pizza in town!
Pay is from $8 and up with tips! 
Also, gas reimbursement and food discounts

Responsibilities include:
* Delivering orders in the Pocatello and
Chubbuck area, taking phone orders, making
pizza's, food preparation and cleaning.
* We are hiring for 3, 4, or 5 shifts per week.
* Shifts are evenings during the week and
weekends and start between 4 and 5 PM.
* Must be 18 or over, use own vehicle, and have a
current drivers license and insurance.
Do not contact this company in solicitation of any product or service.