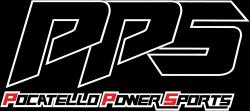 Parts and Major unit salesperson
2020-03-11 POCATELLO POWER SPORTS 2523 POLE LINE RD. DOE
Description:
Motorcycle and ATV parts and sales person needed immediately!
Pocatello Powersports is looking to add a hardworking enthusiastic salesperson to their parts and sales department. This person should be capable of working in an active environment and be able to sell customers the right parts, accessories for the Honda, Suzuki, Polaris, Can-AM, Ski Doo or KTM of their choice.
Hourly wage plus commission dependent on experience but no experience is required.
Send resume to jJess@rideidaho.net or drop of at Pocatello Powersports
2523 Poleline Rd Pocatello Id. 208-232-8100
Thank You
Jess Burry
2523 Poleline Rd
Pocatello ID. 83201
208-232-8100
Do not contact this company in solicitation of any product or service.